A Dozen Ways To Style An Unused Fireplace
A Dozen Ways to Style an Unused Fireplace
When the fireplace has become more of a black hole than a focal point, it's time to get styling with paint, flea market finds, even artificial turf. Whether your fireplace doesn't work or you just prefer not to use it, pick and choose from these 12 ideas and get ready to gather round the hearth once again.

Alexander Waterworth 1. A fresh coat of paint. Whether you go for crisp and clean white or something more vibrant, paint is a great way to rejuvenate an unused fireplace. Once it's painted, put sculptural logs inside or try any of the ideas that follow.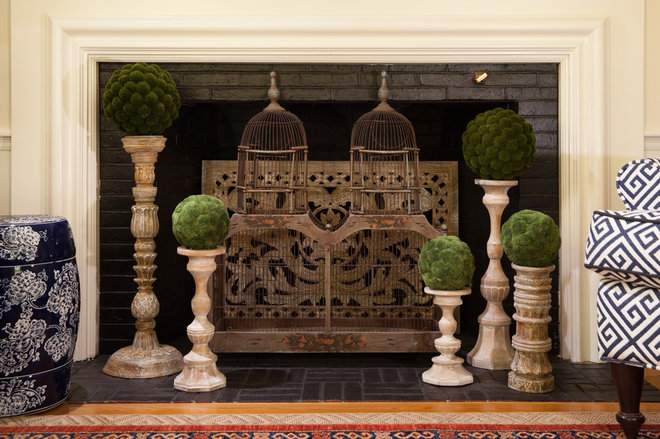 Kim Macumber Interiors
Chris Snook 2. Flea market finds. A battered trunk, a birdcage with an interesting shape, a set of old bowling pins — just about anything that catches your eyecan work as a styling tool as long as it fits in the space. Bring the dimensions of the firebox (inside portion) to the flea market or antiques fair to be sure you come home with a piece that works.
Francis Dzikowski Photography Inc. 3. A textile lining. Attach beautiful fabric, a small rug or even artificial grass (left) inside the firebox of your unused fireplace for a colorful makeover without painting. Scoot a petite bench in front to finish.
The Room Illuminated 4. Stacked magazines. Have a huge collection of design magazines you can't bear to part with? A thoroughly clean firebox can make a convenient home for periodical archives within reach of your favorite chair.
Jeff Herr Photography
Cynthia Lynn Photography 5. Wood, painted or raw. Simply filling your unused fireplace with neatly stacked wood is quick and attractive. Since it hints at the warmth of a roaring fire, it's especially welcome in the fall and winter.

If you would like to add color, you can paint the logs before setting them inside. A cluster of wood placed vertically (above) can be fully painted. If you plan to stack logs horizontally (left), paint a few ends for visual interest.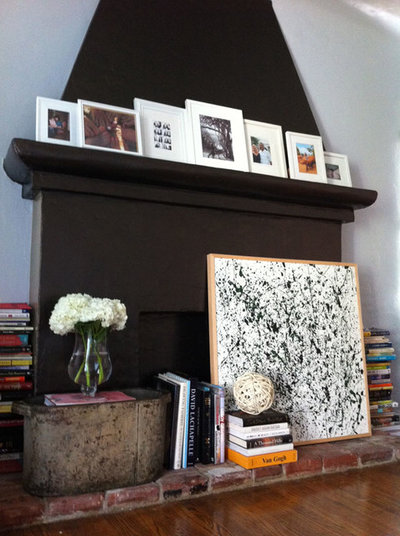 Murphy Deesign 6. Artwork. A large canvas propped up on the hearth is casually elegant. If you would rather keep your most cherished pieces of original art on the wall (totally understandable), consider picking up an inexpensive vintage painting from a flea market, or an abstract by an emerging artist at a student show, for this purpose. Or forgo art entirely and create your own DIY piece by stretching colorful fabric (like Marimekko) over a blank canvas from the craft store.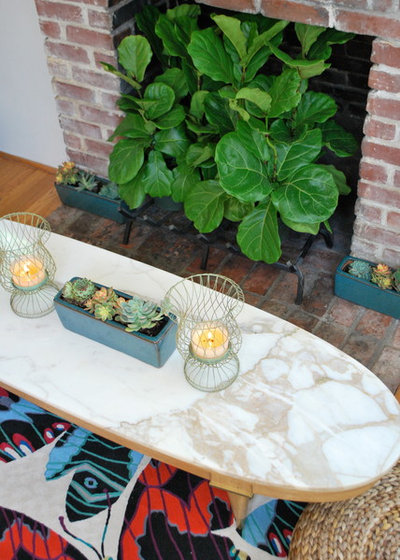 Kelly LaPlante LLC 7. Plants. Fresh greenery is a wonderful distraction from the black hole of an unused fireplace. Just be aware that no plants (not even shade-loving ones) will thrive in the firebox itself. Place potted plants just in front of the fireplace or, if youreally want to tuck them inside, use high-quality fake plants instead.
Read Interiors Ltd 8. An oversize letter. Track down vintage signage, light-up marquee letters or painted craft store letters to personalize your space. Placed in front of or inside a nonworking fireplace, an initial makes an artistic statement —the bigger, the better.
Lien Luu Ltd. 9. Shelving. If your fireplace never worked (and never will), there's no reason to pretend otherwise. Put the interior space to work by installing shelves to store books or display a collection. For even more punch, brush on a few coats of saturated color, like the bright blue shown here.

Chair: Eero Aarnio Bubble chair, Hive Modern
Teness Herman 10. Christmas lights. Old-fashioned Christmas lights with big colored bulbs are a festive way to cheer up a nonworking fireplace around the holidays. Switch to white twinkle lights at the new year to keep the joyful feeling year-round. If you don't have an outlet beside the mantel, use battery-operated strands. For a twist on this look, fill large apothecary jars with lights and put these in the firebox.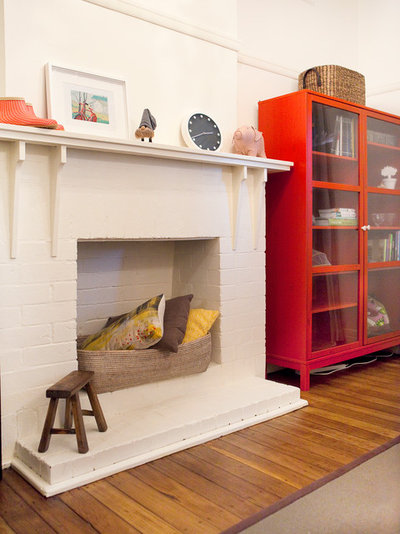 Studio Eclectic Photography 11. A basket of warmth. Rather than calling fire to mind with twinkle lights, why not channel the heat with items you can use to actually warm yourself? A basket of cozy blankets and cushions in your clean unused fireplace makes a useful display.
Le Michelle Nguyen Save Photo
12. When in doubt, go with candles. A cluster of candles (real or battery-operated) adds a glow of light in the evenings that boosts ambience, making it a good choice for any nonworking or simply unused fireplace. More is definitely more in this case, so aim to fill the firebox with lots of pillars for a lavish look.

Tell us: Do you have a nonworking or unused fireplace? Share a photo of what you've done with it in the Comments.


See original article here: http://www.houzz.com/ideabooks/55288785?utm_source=Houzz&utm_campaign=u2036&utm_medium=email&utm_content=gallery15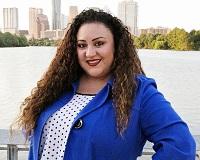 Author:
Melissa Galvan
Phone:
512-773-5735
Dated:
November 25th 2015
Views:
318
About Melissa: True Austin native with a passion for real estate. I'm rooted in Austin and I love my city. I'm priv...