Yeti Coolers LLC opens its first retail store at 220 S. Congress Ave. — a major step for the company to directly reach consumers, and a promising development for a long-vacant property at the gateway between downtown and trendy shopping to the south.
The 8,000-square-foot space is packed with scenes from the outdoors, such as a fishing skiff and taxidermied bear, plus plenty of Austin mementos that pay homage to the hometown of founders Roy Seiders and Ryan Seiders. The brothers started the company in 2006, and over the past decade-plus have grown it into a business with 300-plus employees and annual revenue of more than $468 million.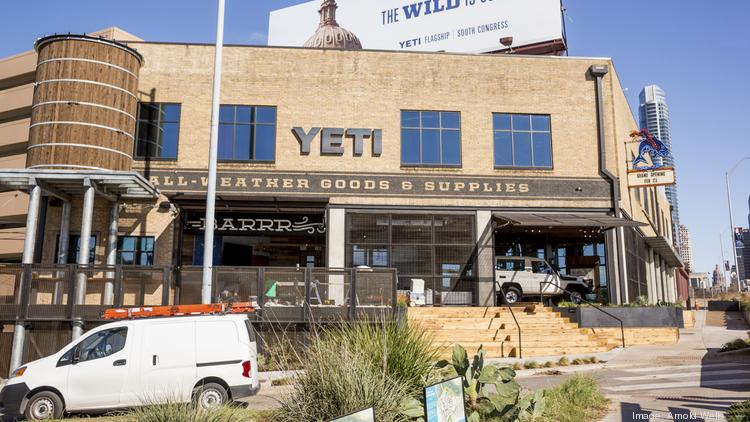 The flagship store also includes a bar, a stage, neon signs by Evan Voyles (owner of Neon Jungle, who also created neon signs for the likes of Uncommon Objects and Home Slice Pizza), a screening area to show promotional videos and coolers and other products stacked everywhere.
The marquee site is a short stroll from downtown, at the corner of South Congress and Barton Springs Road, and sits next to one of the city's primary tourist attractions: bat viewing on the South Congress bridge. On top of all that it's next to the downtown hike-and-bike trail, a favorite for Yeti's target audience.
Austin Business Journal reported on the store in February 2016 when rumors were abounding in the real estate community about the cool but dilapidated building. Now one of the highest-profile consumer companies in Austin has created a temple to its brand at the border between the city's commercial heart and one of its hippest residential and shopping districts. The public opening was Feb. 23.
Built in 1936, the facility at 220 S. Congress Ave. once housed Brink's cash handling and security business. Developers have long pined over the thin block next to Lady Bird Lake: In 1999-2000, Houston developer Randall Davis had hoped to turn the site into a 10-story residential tower called the Gotham, complete with neo-Gothic architecture. But Davis ran into resistance from neighbors over the building's proposed height and look.
The location was most recently a furniture store, which closed in 2009. Austin-based Cielo Property Group purchased the site in 2015 and invested at least $2 million on a facelift with Gensler as the architect.

Once Yeti got involved, it recruited Lake/Flato Architects while branding agency McGarrah Jessee led the concept design for the new space with input from retail design firm Lauckgroup.
The store is part of the city's South Central Waterfront project, which aims to guide the redevelopment of a few of blocks on the south shore of Lady Bird Lake in order to create a lively, walkable district. An advisory board was recently created to oversee the process.
Elsewhere in Austin, Yeti's corporate headquarters is being built off Southwest Parkway. The company has leased all 175,000 square feet of the Lantana Ridge project by Lincoln Property Co.
Parent company Yeti Holdings Inc. filed in July 2016 for an IPO. However, those plans are apparently on hold — the company is reportedly seeking more private funding before it heads to the public markets.
Will Anderson coordinates digital coverage of business news.
Hey everyone, I checked out the new Yeti Store, and the location is superb! It's right by the spinning Bat Sculpture across from the Austin American Statesman. I found a great parking spot at the Austin American Statesman, $6 for 4 hrs. I had lunch at Threadgill's, which is a block down the road and then I hung out at Yeti. The open air bar and TV area couldn't be better and I got to check out all the new Yeti merchandise. After my delicious lunch at Threadgill's and relaxing conversations at Yeti, I crossed Congress and went down to the trail/boardwalk for a stroll. Like I said, great location! (Nate Jones - Austin Realtor)
Interested in Selling your Austin house?
Complimentary Consultation and Current Home Valuation!
Interested in Buying A House in Austin or Nearby Area?
Nate Jones - Austin Area Realtor
(512)636-2864
Email: [email protected]
Raised in Miami, Florida, I have been in Austin for over 20 years. I am knowledgable of the Austin real estate market and I understand aspects of the construction and permitting process. In part, I ga....